12. Ross Poldark by Winston Graham
I have been asked over the years what my favorite Masterpiece Theatre series is, and I have always said POLDARK! My husband and I have been fans of Poldark since the early 90's when we watched the 70's version on VHS. We have watched it more than once, and we love Robin Ellis as Ross:
Then came the equally wonderful NEW Poldark series! I like both actors as Ross and both series are equally amazing. Aiden Turner is a mesmerizing Ross: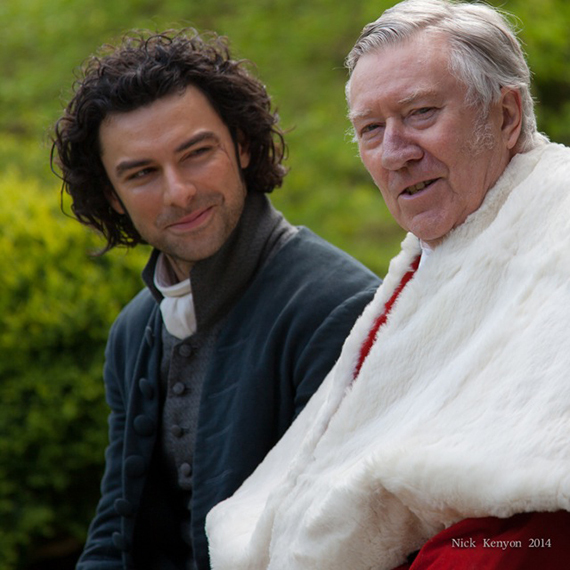 And I love that Robin Ellis is also in the NEW Poldark! How cool is that?
So, I was curious to know what the Poldark books were like. My husband had read this first one many years ago, and when the new series came out he commented that the new one is much closer to the books, and I have to agree. As I have read up on things, Winston Graham was disappointed at how they changed things in the 70's version, but I think he would definitely like this new version.
I just have to say that if you love the TV series, and you love to read great literature, you will love this book. I thought his writing was SUPERB, and it really is the best I fiction I have read in a while. He paints such vivid pictures and has wonderful character development. I love knowing the thoughts of the characters; something you cannot always surmised from watching it being acted.

So, TWO THUMBS up for this book. My husband went and got the next one (Demelza) from the library when I was on my last hour of listening to the audiobook version of this book (helps that I have a terrible cold and canceled all my plans for today).
By the way, the narrator, Oliver Hembrough, is absolutely wonderful. He does the Cornish accent to perfection. He also does men and women distinctly.
There are 12 books in the series, and I have a feeling this will be my summer series like Narnia was last summer.
Then we will have to go back to England and go to Cornwall! :)