32. The Magician's Nephew by C.S. Lewis
This is where it all began! It had some fun surprises that tie many things together with the other books.
There is also quite an allegorical message about hearing the voice of God. It is quite beautiful, but I don't want to give away spoilers. This one might be my favorite one of all the Narnia books. It is either this one or The Silver Chair.
Kenneth Branagh is the BOMB reading this too even though I only got to listen to a bit of it before I had to turn it back in and get back in the cue waiting for it! I went ahead and read my husband's 1970's version that has the funkiest cover with the 70's colors on the boarder! Check it out: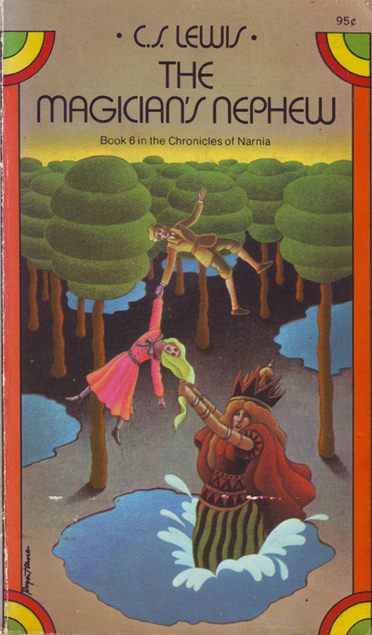 My kids are both artists, and they loved looking at all the covers in my husband's 70's set! :)
I read the last two out of order, but I have to say that this was a most satisfying summer of reading this whole series! I am done now, and I am so happy I did it!