Abiding Fruitfulness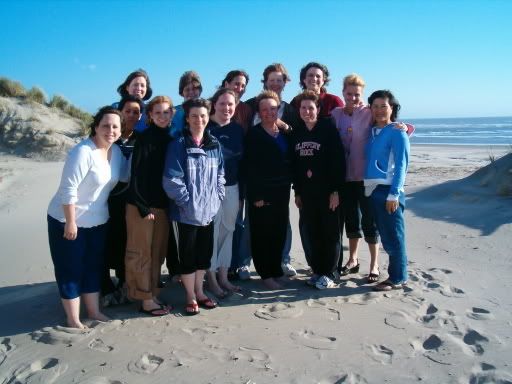 These are the women that I have talked on and off about all year. What an extremely challenging and "out of comfort zone" experience for me. It was out of my comfort zone but not out of my gifting. We each developed Personal Mission Statements and shared our dreams for the future. It was a fabulous time.
Now, I am getting floods of emails with each of these women sharing their excitement as they put feet to their vision and are flying.
- K (far left in the back) has a vision for "bringing love and hope for healing change for hurting people" and is starting a "Changes that Heal" group for women who have suffered with knowing that God really loves them. She is passionate for wholeness.
- K (back second from right) has a vision for "creating a nurturing and inclusive community for women of young children" and is starting a children's retail/resale clothing store in hopes it will become a place for young moms to gather and find support in this isolating time of life. She wants to have big couches and a safe place for the kids to play while there moms chat or listen to people speak on topics that pertain to their life stage. She and
- L(from left) are going to a retail space downtown today to check it out. L is a "put feet to ideas" sort of person and it helping K in the implementing of her dreams since her passion is "fostering healthy, mutually supportive communities where each woman can grow toward wholeness in Christ." In addition, L is wanting to get women together this summer to talk about what they are meditating and journaling about in Scripture.
- J (second from left in back) is going to start breast health workshops through churches in my town. She is starting with our group! She is an RN with a passion for "empowering women to be aware of their own breast health." The old way of breast self-examination is out, and she is on a mission to educate every woman that moves about the best and most effective means of self examination.
- N (second from left in front) has just started that coffee shop, and she has a vision for "presenting an authentic life empowered by her loving God" in the context of her new JJCoffee Shop and in her neighborhood near the shop.
- MA (back row, fourth from left). She has a passion for "teaching God's truth to young children in a loving, safe, and fun environment." She has been our four year old teacher for years, and this class affirmed her in her life long mission. She loves what she does, does it well, and has fun doing it! She wants to start mentoring younger women in her passion and may mentor D after she gets out of grad school!
- D (third from left in front) has a passion for "teaching children from all walks of life through loving and caring for them," no matter what their background. She loves the troublemakers and really wants to reach out in love to the whole family unit. She is getting her masters this following year and will be discipled by . . .
- R (fourth from left in front) who has a passion for "encouraging women toward growth and contentment in God's plan through shepherding, acts of hospitality and mercy. She hosts a monthly prayer time with young marrieds. She also meets to encourage women who are struggling with infertility since she took many years to get pregnant. (She is due in November!). I will have the privilege of shepherding her next year as she disciples D.
- M (third from right in front) has a passion for "brefriending, encouraging, and connecting women as they grow in their walk with Jesus Christ." She might be helping in recruiting for the next year's Women Becoming class that will start in Fall of 2007. She will be helping refine and develop the curriculum for the next class and when it starts will be the "right hand woman" of the woman who teaches the classes (either me or my partner).
- T (fifth from left or right in front) She has a passion for "authentically loving others in witness of being followers of Christ." She is twenty-eight years of maturity and dynamite, but she has no idea of where she will go next year. She works with her Young Singles class at church and would love to see discipleship in their class. She is still praying about career options for next year. If she sticks around, I would love to invest in her.
- D (Far right) She is a sweet servant and intercessor. She is praying through her neighborhood with K (they live a block away) and has a passion for "loving God, reconciling others to Him, sharing His word, praying, and demonstrating kindness" in her neighborhood and at her kids' school. She also might be teaming up with K for some things too. I am also teaming her up with a mentor soon.
- C (third from left in back) She is a brain, higly intellectual, and has a passion for "preparing women to give considered account of their beliefs: theologically, historically, and personally." She may teach a basic doctrine class for women next year but often has a hard time putting feet to her ideas. I think my partner will be helping her since she is very good at that!
- My infamous partner, M (sixth from left in front). She has apassion for "taking life in Jesus Christ to the Women of the Nations." She will be going to Brazil with our college pastor to add a "women's dimension" and will be taking another trip to India. She will also be helping with a once a month follow-up course with our pastor for the women in this class and men in his class who are interested in continuing in leadership development.
- Me (the tallest one). My vision is to "shepherd women toward abiding fruitfulness in Christ through relational evangelizing, establishing, equipping, and encouraging." And this picture speaks of how I have put feet to a part of my passion!
That is what I have been thinking about and doing lately!